BMW Genuine Safety Tablet Case Universal Cradle Carrier Bracket 51952408224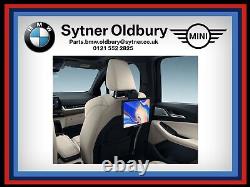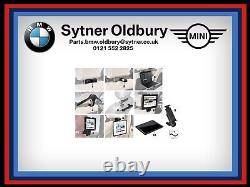 We know the needs of BMW drivers are highly specialized. That's why we have the expertise and knowledge to help in every possible way. BMW Genuine Safety Tablet Case Universal Cradle Carrier Bracket 51952408224. Tablet universal cradle safety case, HALTER.
Required for fixing safety case to headrest bars. Every Genuine BMW item is specifically designed and manufactured to fit with the exact requirements of your BMW, so you experience the best quality and performance that your vehicle is designed for. Large and continuous investments in technology and design ensure superior quality and durability of our parts. Represented by part number 9 in the diagram.
Only suitable for item 1. S uitable for vehicles without Rear-compartment entertainment (S6FGA) and without Rear Professional entertainment center (S6FHA) and without BMW DVD System Advanced (SZK3A) and without DVD system Tablet (SZMKA). The images are for illustrative purposes only and the product may vary, depending on your vehicle. Sytner Oldbury is an authorised BMW & Mini Retailer located a few minutes from Junction 2 of the M5 motorway.
All parts are genuine and brand new unless otherwise stated. Honest mistakes do happen but we do our best to rectify quickly and efficiently.
For all other countries, please use the drop down menu near the bottom of the listing. Collection is available from our dealership.
In our state-of-the-art dealerships across the UK, Sytner Group represents the world's most prestigious car manufacturers. Our success has been built by every team member working together and contributing to our one team ethos. We strive to deliver an exceptional customer experience; our employees are highly trained, enthusiastic, knowledgeable and driven to deliver our fundamental commitment to our customers; of getting it right first time and making each and every interaction special.
At Sytner we understand that exceptional customer service can only be consistently delivered by attracting, motivating, training and retaining the very best team members. We are proud to be considered by our colleagues as the best employer in the UK in the 2017 Sunday Times best big companies to work for survey. Sytner was founded in 1968 by British Touring Car Champion Frank Sytner and his older brother Alan Sytner.
With the first Sytner dealership located in Nottingham, it took Frank and Alan just two years to be awarded the BMW franchise for Nottingham. After spending many years working exclusively with BMW, the decision was made to diversify the Group to represent other prestige marques and by 1997 the dealership count had reached double figures; including such brands as Ferrari, Audi and Mercedes-Benz. By 2002, the business had continued to rapidly grow and caught the attention of Roger Penske; ultimately joining the Penske Automotive Group later that year.
Today, Sytner Group is the UK's largest motor dealer by revenue and despite our growth and increasing scale, we are proud to still retain a strong family'Sytner' culture across all of our dealerships.