Bmw M Performance Carbon Fibre Fuel Filler Cap Cover Trim Genuine 16112472988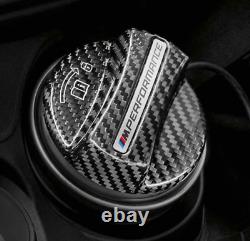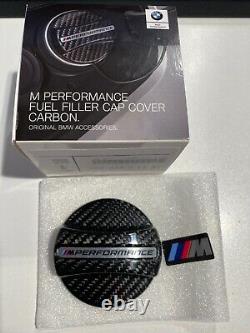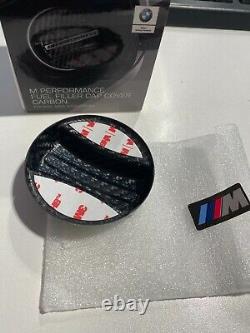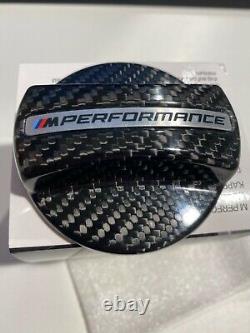 BMW M PERFORMANCE CARBON COVER. FOR ALL CARS AFTER 2010. M Performance fuel filler cap cover made of carbon. The fuel filler cap cover carbon is a cover for the existing fuel filler cap which creates an optical focal point due to its being made of genuine carbon and its exclusive M Performance branding. The M Performance fuel filler cap cover carbon delivers a clear optical upgrade over the existing filler cap.
It is made of carbon, a material widely used in motorsport, to create a modern, premium look. The M Performance logo on brushed aluminium provides an extremely high value finish. The M Performance fuel filler cap cover carbon is a perfect fit. The Original BMW component is extremely resistant to petrol and diesel fuels.
It can be installed easily by the customer. Comparison with competition - This product is only and exclusively available from BMW. Tried and tested using stringent BMW Group standards to ensure a long service life. No restrictions on the function of the existing filler cap. When the driver changes car, the part can be transferred to the new car (see EPC for restrictions).
Functionality - There are adhesive pads on the inside of the fuel filler cap cover carbon, which are used to secure it to the existing filler cap. There is no need to take the car to a workshop as installation is simple (adhesive pads). This work can be carried out by the customer.
Check out our other items in our. Or you can view our other items by. If you can't find the item you're looking for. To send us a message. Your chassis number can be found on your V5/registration document next to VIN/Chassis/Frame No.
And it will start with WBA, WBS, WAP, WBY or WMW. It can also be found in the bottom corner of your windscreen on the passenger side (looking from the outside of the vehicle). For all other areas please. If you would like something changed with your order or would like your item sent 1. If your request is urgent please call the parts department at Lloyd Carlisle.
Please bring a form of ID if you are collecting. Our collection & return address is. If you have made a mistake please let us know by contacting us.