New Genuine WEBER 38 DGMS Carby carb Gemini Escort Capri Cortina Datsun BMW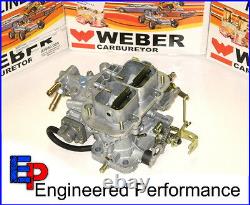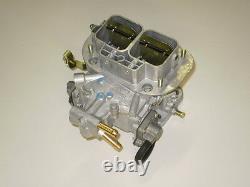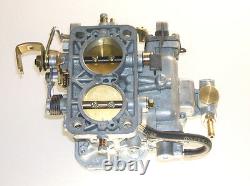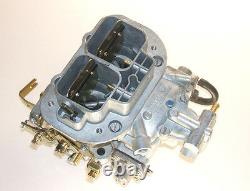 Brand new genuine European Weber 38 DGMS carb. Adjustment of butterfly throttle stop and balance linkage. Adjustment of idle mixture screws. General carb inspection to confirm correct operation of throttle, acc pump, choke mechanism, etc. We also offer a re-jetting service at additional cost to customise the carb jetting to suit your engine specs. All this ensures you can bolt the carb on, allow the engine to start up, and it will perform as it should out of the box, ready for fine tuning. We also offer jetting kits to suit, so you can fine tune the carb once fitted and running on your engine, and can tailor the kit to suit the initial jetting of the carb.
On a blow through turbo setup, so these bigger 38/38 carbs are capable of even more! The 38 DGAS is the big brother to the smaller Weber DGV 32/36 series and is the High Performance option for carby conversions. It shares the same base mounting flange, and top cover shape for air cleaner fitment, as well as the majority of tuning parts such as jets, valves, etc. However the 38 DGMS incorporates a pair of 38mm butterflies, and 27mm main venturis.
This allows the 38 DGMS to flow more air that the 32/36 carby, and therefore is more suited to highly modified 4 cylinders around 2 litres in capacity, right up to larger 3-4litre 6 cylinder engines. They are a popular choice for Holden sixes and Faclon 200ci and 250ci sixes. The butterflies on the 38 DGMS are synchronous, that is they both open together at the same time.
This allows for improved throttle response and engine acceleration. This 38DGMS is a manual choke optioned carb. The choke increases cold idle speed and richens the air fuel mixtures until the engine warms up. However the choke is very easily removed and we usually do this on any performance application as it improves air flow and power production. This style of carby is factory fitted to Ford Capri 3.0litre V6 engines, and is a proven performance upgrade for 1.8 and 2.0 litre Escort and Cortina engines which had 32/36 carbys fitted as standard.
Theyre also a fantastic performance upgrade for Holden Gemini, which we have used extensively, Mitsubishi Sigma & Scorpion, Toyota Corolla, Hilux & Celica, to name a few. Also commonly fitted to larger 6 cylinder engines, we have seen them on both Nissan Patrol and Land Cruiser, they powered the 4 litre engines and provided heaps of grunt with crisp acceleration. Have also seen them working well on Holden 6 cylinder 202ci, and are a good carb replacement on Ford 250ci cross flow engines, as they have similar airflow to the standard Weber 34ADM carbys as fitted to XE and XF Falcons, and bolt up to the stock inlet manifold.
Adaptor plates are available to bolt the carby to all of these other engines to make the carby a bolt on swap. Weber 32/36 carbys are known to provide enough air flow for about 150hp at the flywheel on worked 4cyl engines, however this 38 carby is larger and would be good for more like 170-180hp on a naturally aspirated engine. Message me if you want more details on the setup. Check out our other listings for new chrome air cleaner kits with high flow washable filter element. See our other listing for complete fitting kits.
Electric choke models are also available at extra cost, but we usually don't keep them in stock, as we use manual choke carbs in our blow through kits, so we would order them in for you. Engineered Performance is not just an online store, we fully understand and use our own products, and tune them on customers cars. If you want any more info or have any questions at all, send us a message and we'll try to reply ASAP, and check out our other auctions for other performance items, as I have new air filters to suit these Webers. Relevant search keywords carby is suitable for: ford cortina falcon laser meteor capri escort nissan datsun navara sunny pulsar stanza 120y l20 z24 140Y toyota corolla crown celica corona hilux litace hiace tarago 3k 4k 5k 3y 18r 18rc 18ru holden gemini jackaroo rodeo astra chev luv commodore torana sunbird mitsubishi sigma colt lancer l200 scorpion galant pajero suzuki sierra vitara subaru brumby leone fiat sports coupe 850 honda civic accord prelude mazda 1200 1300 808 323 webber dgav dgev 38 dgms. The item "New Genuine WEBER 38 DGMS Carby carb Gemini Escort Capri Cortina Datsun BMW" is in sale since Wednesday, February 20, 2019. This item is in the category "Vehicle Parts & Accessories\Car & Truck Parts\Air Intake, Fuel Delivery\Carburetors". The seller is "eng_performance" and is located in Ballarat, Victoria. This item can be shipped worldwide.
Manufacturer Part Number: Does Not Apply
Brand: Weber